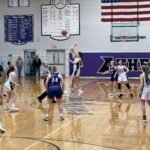 Adrian, MI – The week of March 13th-18th has the potential to be a very busy weekend on 96.5fm The Cave. High school basketball and college hockey playoffs are all on the docket. Here is the breakdown:
Monday: John Koehn will be at Chelsea Monday night for the Tecumseh boy's basketball regional semifinal against Charlotte. Game time is 5:30pm. The winner of the game Monday will play for a regional championship Wednesday night against either Chelsea or Dundee at 7pm.
Tuesday: Jeff Bowman will be broadcasting the Lenawee Christian Lady Cougars quarterfinal game Tuesday at 7pm vs. Kalamazoo Hackett Catholic Prep. The game will be played at the Bellevue High School Gymnasium.
Wednesday: 96.5fm The Cave will broadcast a regional championship boys basketball game if a Lenawee County team is playing in one. If Tecumseh wins Monday, then the station will be with Tecumseh Wednesday. If the Indians lose, the broadcast will shift to carry either Lenawee Christian or Clinton…who are still alive as of Monday afternoon. Regional championships are all scheduled for 7pm.
Thursday: As of Monday, there are two Lenawee County girl's basketball teams in state quarterfinal games: Lenawee Christian and Blissfield. If Lenawee Christian wins, The Cave will carry their semifinal game Thursday. If LCS loses Tuesday, but Blissfield wins, the The Cave will carry the Lady Royals' semifinal game.
Saturday: Ian Wendt will be at Adrian College to broadcast the NCAA Men's Ice Hockey Quarterfinals between the host school, Adrian College, and UW-Stevens Point. Puck-drop is at 7pm…the winner advances to the Frozen Four on March 24th.