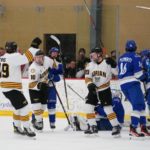 Adrian, MI – It will be a dog fight in the NCAA DIII Men's Ice Hockey National Tournament Quarterfinal this weekend in Adrian, as the UW-Stevens Point Pointers outlasted No. 15 Augsburg 2-1 in four overtimes in first round action.
Yes, that is not a type-o… the first round matchup was the second longest Division III game ever played. Oddly enough, the Auggies played in…and lost… the longest DIII hockey game of all-time, when they fell in 4 overtimes 6-5 to Gust. Adolphus on Feb. 27th, 2010.
The game last Saturday took 129:28 minutes…the longest game took 138:38 minutes.
No. 6 UW-Stevens Point (20-5-4) will play the No. 3 Adrian College Bulldogs (23-4-2) Saturday night at 7pm at the Arrington Ice Arena, with a spot in the Frozen Four on the line.
Adrian, the defending national champions, earned a bye into the quarterfinals after their 8-1 win in the NCHA Harris Cup Championship over Aurora University at home. The highest remaining team still in the national tournament by the end of the quarterfinal games Saturday should host the Frozen Four. Semifinal games are scheduled for Friday, March 24th, with the championship to be played Sunday.
96.5fm The Cave will broadcast all Adrian College Men's Hockey games throughout the NCAA Tournament. Below is the remaining bracket for the Tournament: