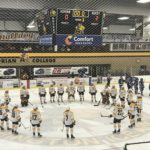 Adrian, MI – The Adrian College NCAA women's hockey season came to an end on Saturday afternoon in the NCAA Division III Women's Hockey Quarterfinals. The No. 4 Bulldogs hosted No. 5 Hamilton College in the Quarterfinals, and the Continentals came away with a 2-0 win.
Things were scoreless through the first 20 minutes of play at the Arrington Ice Arena. Hamilton came out as the fastest team Adrian has seen all season providing early pressure. The Bulldogs were able to battle through it totaling nine shots on goal in the first period.
In the second, the Bulldogs came out ready to handle the pressure. The speed of the game shifted to the Adrian side, but it only took one shot for Hamilton to take the lead. With five minutes left in the second period, Hamilton scored to lead 1-0. The Hamilton goal was the second shot on goal in the second period for the team.
Adrian had an opportunity in the third on a power play which was the only power play for both teams all game. The Bulldogs totaled four shots during the advantage, but Hamilton kept the team scoreless. With less than two minutes to go, head coach Shawn Skelly pulled his goaltender to give Adrian the extra attacker. Hamilton was able to knock the puck free and scored an empty net goal to lead 2-0 with under a minute to go and win the game.
Sophie Goldberg finished with 15 saves in goal for the Bulldogs.
Hamilton moves on to face Amherst in the Frozen Four next weekend. The Bulldogs will look to make another run next season and return to the NCAA Tournament in 2024 as they continue to hunt a National Championship.
Adrian's season ends with a 26-4 overall record.