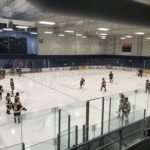 Angola, Indiana – The No. 7 Adrian College Women's Hockey team had no trouble with the Trine Thunder Saturday night, completing the home-road weekend sweep with a 3-0 victory.
The first period didn't see any goals, but Adrian established their presence by putting pucks on the net and creating scoring chances. The three goals in the game were all scored by the 'Dawgs in the second stanza. Defenseman Kathryn Truban scored her third goal of the weekend (and third of her career) on assists from Jaden Rilei and Kaleigh Cadorette to give AC a 1-0 lead.
Jessica VonRuden, in her 100th career game at Adrian College, scored a power play goal on a pass from Kaleigh Cadorette and Karmen Anderson to make it 2-0. Aileena Dopheide scored Adrian's third goal of the period to put the game out of reach. Ellie Slater recorded her first point as a Bulldog after being credited with the primary assist. Annika Hanson had the secondary assist on the goal.
When all was said and done, the Bulldogs threw 67 shots on the Trine goalie…after putting 75 on net in Friday night's 5-0 win.