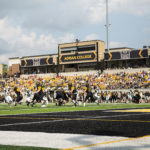 Adrian, MI – The Adrian College football team (2-3 overall, 1-1 MIAA Conference) will host Olivet College (1-0 overall, 1-0 MIAA conference) for their lone conference home game this afternoon at 4pm.
Adrian holds a commanding 47-28-1 lead in the all-time series with Olivet.
The Comets won their first game this season against Kalamazoo 55-14. The offense had 505 yards and the defense only allowed 230 yards during the game.
The Bulldogs had their last outing against the Comets in October 2019… suffering a 21-17 loss on the road.
Last week, the Bulldogs fell short to Trine 33-23. Quarterback Jack Wurzer completed 24 of 32 passes for 301 yards and a TD. Safety Brandon Kwiatkowski led all defensive players with nine tackles and 14 total stops.
To listen to the game, tune in to 96.5 The Cave, and 965thecave.com.