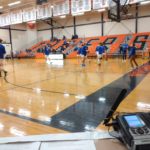 Hudson, MI – Jude Mineff hit a triple with 21 seconds to go completing their dramatic comeback, and Lenawee Christian stunned Hudson 58-56 in a Division 3 District Championship game Saturday night in Hudson.
The Tigers had an 8 point lead in the 4th quarter, but only hit 5 of 12 second half free throws to allow the Cougars an opening for the victory. Tyler VanEtten paced the Cougars with 18 points.
Gavin Sluss had 12, and Elliott Addleman had 10. Hudson was paced by Ambrose Horwath with 21 and Anthony Arrendondo had 11.
Lenawee Christian moves on to regional play Tuesday night at Erie Mason. They will play the winner of the game between Monroe Catholic Central and Adrian Madison.
-by John Koehn