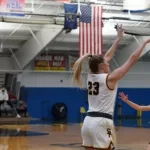 Sylvania, OH – Mixed results for Siena Heights basketball Wednesday night in Sylvania, as the Women's team beat the Gray Wolves and the Men's team dropped their first game of the season.
Lady Saints Even WHAC Record in Win vs Gray Wolves:
The Siena Heights women's basketball team earned its first win with a 71-55 victory at WHAC opponent Lourdes on Wednesday night.
Jillian Gelso buried six 3-pointers en route to a 22-point, nine-rebound effort. Kayla Hinton had her second straight double-double with 13 points and 12 rebounds.
E'Anna Won had 14 points and five assists. Brooke Rebman added 13 points for SHU (1-2, 1-1).
Siena Heights fell behind 1-0 before taking the lead for good with 10 consecutive points in the first quarter. The Saints snagged a 22-7 edge through one; Rebman had eight points in the period while Hinton put in seven.
Lourdes (1-2, 0-1) chipped away to pull within three points in the third quarter, but SHU outscored its host 21-12 to pull away in the fourth.
As a team, the Saints were 20 of 57 from the field (35.1 percent), going 10 of 28 from 3-point land (35.7). SHU was 21 of 29 from the line (72.4) and had its best game this season protecting the basketball with 14 turnovers.
The Saints will return to play on Saturday with a 5 p.m. contest against Aquinas at the SHU Fieldhouse.
Men Drop First WHAC Game at Lourdes:
The Siena Heights Men's Basketball team traveled to Lourdes University and fell to the Gray Wolves 84-53. Delano Williams led the day for the Saints with 14 points and five rebounds. Off the bench, Brent Wiles scored 10 points with two steals, three rebounds, and an assist.
The Saints (1-1) started out hot against the Gray Wolves when they started out making two threes to jump out to a 6-2 lead. From there on it was back and forth with a Saints lead at 16-15, with just over eight minutes to go in the first half. To end the half, the Gray Wolves caught fire by going on a 23-4 run to take a 38-20 lead going into halftime.
To start the second half, the Gray Wolves remained hot in the first 10 minutes of the second half, going on a 28-11 run. This continued as Lourdes came out victorious 84-53. Next Up, The Saints will host Aquinas on Saturday, November, 18th, at 3 PM.