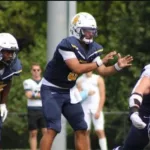 Adrian, MI – The Siena Heights football team evened-up their record to 1-1 on the young season, as they defeated Saint Ambrose 28-14 at home Saturday afternoon.
Quarterback Elijah Taylor had two touchdown passes and a touchdown run to pace the offense. He finished 17 of 29 for 239 yards in the passing department and three for 20 in the rushing area. His two touchdown passes went to wide receiver Eric Williams II, who finished with five catches for 88 yards.
Running back Ethan LoPresto finished with 15 carries for 64 yards and a TD. Fellow back Jordan Ramsey had 12 carries for 43 yards and wide-out Credell Prather hauled in six catches for 85 yards.
Linebacker Clarke Hamilton was SHU's leading tackler with eight stops, including one for-loss. Defensive backs Shamar Askin and Jack Fitzgerald and lineman Antonio Simley added seven apiece. Simley had a sack.
Defensive lineman Jayden Giles added a tackle-for-loss, defensive back Mason Leach and linebacker Joshua Mack forced fumbles and linebacker Markel Main recorded a fumble. Interceptions were recorded by defensive backs Isaiah Pizzo and Devan James.
The Saints led 14-0 at halftime after TD runs by Taylor and LoPresto from 1 and 2 yards out. Williams' touchdown catches in the third were grabs of 13 and 34.
Siena Heights (1-1) will return to action next Saturday with a visit to Judson.