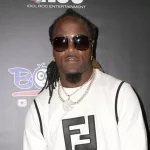 Authorities confirmed that former NFL defensive back Adam "Pacman" Jones was arrested early Monday after police responded to a report of an "unruly passenger" at Cincinnati/Northern Kentucky International Airport.
Capt. Kevin Klute of the Boone County Jail said that Jones was booked on misdemeanor counts of alcohol intoxication, disorderly conduct and terroristic threatening. He was later released.
Airport spokesperson Mindy Kerschner said police were called at 6 a.m. Monday to help crewmembers with an unruly passenger on a flight scheduled for departure, confirming that Jones, the passenger, was "arrested prior to takeoff and taken to Boone County Detention Center." Further details about Jones' arrest weren't immediately available.
Jones said after he was released that he asked to be moved to another seat because the phone charger for the two seats he had purchased wasn't working and that he was told they would have to turn the plane around. The former Bengals Pro Bowler vehemently denied being intoxicated and also rejected the terroristic threat allegation, adding: "I'm hurt, this is embarrassing."
Jones was a first-round draft pick by the Tennessee Titans in 2005, however, his 12-year tenure in the NFL was marred by off-field incidents and suspensions. He played two seasons for the Titans but was then suspended by the NFL for the 2007 season for conduct that included at least 10 incidents where he was interviewed by police, returning to the NFL in 2008 with the Dallas Cowboys. Jones then signed with Cincinnati for the 2010 season where he spent the majority of his career, earning selection to the Pro Bowl in 2014 and 2015. His NFL career ended in Denver, where he played seven games with the Broncos in 2018 before he was released.
Editorial credit: Kathy Hutchins / Shutterstock.com