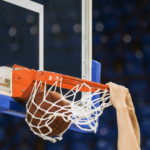 The eighth-seeded Miami Heat are just one win away from the NBA Finals after defeating the Boston Celtics 128-102 on in Game 3 of the Eastern Conference Finals on Sunday.
Gabe Vincent scored a game high 29 points on 11-of-14 shooting, while Duncan Robinson and Caleb Martin added 22 and 18 respectively, while Jimmy Butler scored 16 points, eight rebounds and six assists.
It has been an odds-defying run for the Heat, who were given little chance of progressing by bookmakers and NBA experts alike but are now a game away from adding a series sweep of the No. 2 seed to their list of scalps.
The Celtics Jayson Tatum scored just 14 points on 6-of-18 shooting, while Jaylen Brown added just 12 points on 6-of-17 shooting. Brown has struggled this series and has made just two of his 20 three-point attempts through the first three games.
The Heat look to sweep the series with a potential Game 4 victory against the Celtics in Miami on Tuesday night.
Editorial credit: PhotoProCorp / Shutterstock.com