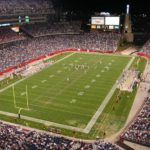 Longtime New England Patriots linebacker Dont'a Hightower announced his retirement from the NFL on Tuesday.
The 33-year-old Hightower, who opted out of the 2021 season due to COVID-19 and did not play in 2022, made the announcement in an article for The Players' Tribune: "Today, I am officially retiring from the NFL. I know these announcements always feel bittersweet, but I can't think of a better story than the one I wrote in New England. A decade, three Super Bowls, two Pro Bowls, and the birth of my son — all playing for one franchise. How many guys have a story like that? So this is a happy day for me, and I just wanted to let you all know how much I appreciate you embracing a Southern kid from Lewisburg, Tennessee … I just want to say thank you for helping me live my dream. To you, to my beautiful wife, Morgan, to all my coaches, my teammates, my mentors, my teachers, my friends, my entire family, and to all the fans at Bama and New England….Thank you. Just thank you. I wouldn't rewrite a single chapter of this story."
Hightower won three Super Bowl titles with the Patriots. The two-time Pro Bowl selection logged 71 combined tackles, eight tackles for a loss, 5.5 sacks, four passes defensed, a fumble recovery and a touchdown in 15 starts in 2019, and totaled 64 combined tackles, 1.5 sacks and a pass defensed in 15 starts in 2021.  Hightower logged 569 combined tackles, 43 tackles for a loss, 27 sacks, 18 passes defensed, five fumble recoveries, two forced fumbles and an interception in 117 career appearances for the Patriots.
Editorial credit: Mike Liu / Shutterstock.com