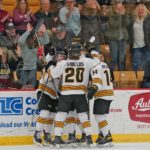 Adrian, MI – The defending National Champions have punched their ticket to the Frozen Four. Adrian College NCAA men's hockey team took-down an old rival, UW-Stevens Point, 3-2 in overtime Saturday night in an electric Quarterfinal game at the Arrington Ice Arena.
The Bulldogs never trailed in the contest, with Alessio Luciani scoring the first goal about five minutes into the game.
Late in the period, Stevens Point scored to even the game 1-1. Early in the second, Luciani scored again on a power play to regain the lead, 2-1. Four minutes later, Stevens Point tied the game again entering the second intermission.
The third period went scoreless with Adrian finding multiple opportunities, but struggled to find the back of the net.
In overtime, Adrian went on the power play and later was given a 5-on-3 opportunity. Ty Enns ripped a shot from the right circle which was saved, but Matus Spodniak was able to pick up the rebound and score the game winner to win 3-2.
Nic Tallarico earned the start in goal where he finished the game with 37 saves including 15 in the opening period and three in overtime.
The Bulldogs move on to face the University of New England in the Frozen Four on Friday, March 24. Stay tuned for future updates.