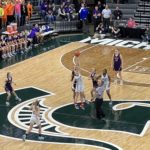 East Lansing, MI – The Blissfield Royals Girls Basketball Team will play for a State Championship on Saturday afternoon. The school has not reached the title game since finishing as the Class C runner-up in 1973. It was a balanced attack for the Royals, which is not a surprise to people that have followed the team this year.
Julie White lead Blissfield in scoring with 11 points, Avery Collins had 10, and Leigh Wyman had 9. Also scoring for the Royals were: June Miller (6), Sarah Bettis (5), and Peyton Tennant (4).
Their semi final opponent, Bishop Foley Catholic, was lead in scoring by Ryan Moorer (11) and Abby Pasinos (10). The Royals were victorious, 45-41.
Tonight at the Breslin Center…
The Lenawee Christian Cougars return to the state semi finals despite graduating four starters from last year's 'Breslin team'. The Lady Cougars are without their leading rebounder, Hannah Baker, because of an injury near the end of the regular season. The Cougars have two MHSAA titles, with the most recent being in 2019. They also have one runner-up finish.
Players to watch for LCS include; Isabelle Kirkendall (10.3 points per game), Avery Sluss (14.1 ppg, 7.3 rebounds per game), and Selah Clymer (6.0 ppg). Their first-year coach, Emilie Beach, is a former Morenci standout, and coached the JV squad for LCS in prior seasons.
Lenawee Christian Lady Cougars will play Maple City Glen Lake in the D4 MHSAA state semi final tonight at 7:30pm on 96.5fm The Cave and 965thecave.com with Jeff Bowman on the call.