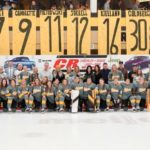 Adrian, MI – The Adrian College women's NCAA hockey team completed the sweep over Finlandia University on Saturday afternoon. Prior to the game, the Bulldogs honored their senior class consisting of Sophie Goldberg, Kaleigh Cadorette, Reaghan Pietrowski, Une Bjelland, Jaden Rilei, and Lindsey Sorrell. Adrian came away with another large victory by a score of 11-0. AC won on Friday night 19-0.
In the first period, Jessica VonRuden put Adrian on the board with 7:26 to go in the first period. Three minutes later, Jocelin Hudanish scored to make it a 2-0 game. Adrian added four goals in the second period from VonRuden, Tia Lascelle, Karmen Anderson, and Maya Roy.
In the third period, Jaden Rilei scored her first career goal as a senior 32 seconds into the period. A minute later, Kathryn Truban scored followed by goals from Pietrowski, Aileena Dopheide, and VonRuden. Saturday's three goal afternoon marked VonRuden's fourth consecutive hat trick.
Goldberg got the start in goal for Adrian on Saturday. It was a light afternoon of work for her as she faced one shot all day which came in the third period. The Bulldogs broke a program record for most shots on goal with 121. The 121 shots on goal broke the record that the team set Friday night when they totaled 106.
Adrian moves to 16-1 on the season and will travel on the road next weekend to Lake Forest College for a two-game series. The series will begin on Friday, January 27 at 8:00 PM EST. followed by game two on Saturday at 3:30 PM EST. Both games can be heard on 96.5fm The Cave and 965thecave.com.
*photo by Adrian College*