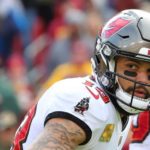 Tampa Bay Buccaneers wide receiver Mike Evans and New Orleans Saints cornerback Marshon Lattimore were both ejected from Sunday's game for fighting. Evans and Lattimore were in the center of a bench-clearing brawl that occurred in the fourth quarter of a game between the Saints and Buccaneers at the Caesars Superdome.
Tampa Bay were preparing to punt after Tom Brady's pass to Scotty Miller on third-and-5 fell incomplete with 12:55 left in the fourth quarter. Lattimore was covering Miller on the play and appeared to wave his arm at Brady in a dismissive manner as Brady walked by him after the play.  Brady turned to look at Lattimore and started to approach him as Buccaneers running back Leonard Fournette ran over to shove Lattimore. Lattimore shoved Fournette back as both Saints safety Marcus Maye and Evans got involved. Evans turned around and ran onto the field, shoving Lattimore and knocking him to the ground. Maye then went after Evans as Lattimore got up to approach Evans again. Maye and Evans hit the ground together, and Lattimore ended up on the ground under Evans and Maye.  The brawl continued to escalate and Lattimore stood up, yelling as teammates tried to pull him back.  After everyone cooled down, Saints defensive end and team captain Cameron Jordan walked Lattimore off the field with an arm around his shoulder.
Lattimore and Evans were both ejected after a quick discussion by officials. As Evans left the field, he appeared to shove a cameraman and gave his gloves to two fans.
The Buccaneers went on to defeat the Saints 20-10.
Mike Evans, Marshon Lattimore ejected after Buccaneers-Saints brawl
Editorial credit: Steve Jacobson / Shutterstock.com