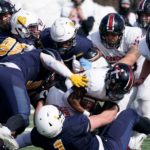 Adrian, MI – The high school sports season is in full swing, with week 2 of football starting tonight. This weekend also marks the beginning of the college football regular season for Siena Heights University and Adrian College.
Between 96.5fm The Cave and 103.9fm WLEN, there will be broadcast games tonight, Friday night, Saturday afternoon, and Saturday night. Here's the slate of games:
Thursday, September 1st- Jeff Bowman will be in Hudson as the 2021 Division 8 State Champion Tigers take on Constantine at 7pm at Historic Thompson Field. Catch the broadcast on 96.5fm The Cave and on 965thecave.com.
In Adrian, the Maples will battle the Columbia Central Golden Eagles at 7pm. John Koehn continues his 49th season of calling AHS football on 103.9fm WLEN. You can also listen online at wlen.com. There will be a pregame show at 6:45pm for both games Thursday night.
Friday, September 2nd- The Cave will broadcast their first 8-player football game of the season from Stryker, Ohio at 7pm (pregame 6:45pm). The Morenci Bulldogs are looking to rebound after their week 1 loss at home…the first 8-player game in their history. Jeff Bowman will have the play-by-play.
Saturday, September 3rd- College football returns to the Lenawee Broadcasting Company Saturday! The season kicks-off with Siena Heights University hosting Olivet Nazarene at 12Noon in Adrian. Chris Renwick is back on the call for the Saints as they battle in the Mid-States Football Association Mideast League.
Saturday night, the Adrian College Bulldogs travel to take on the Heidelberg University Student Princes down in Ohio. Kickoff for that contest will be at 7pm, with a pregame show at 6:45pm on 103.9fm WLEN and wlen.com. Ian Wendt will be on the play-by-play for AC Football this season, as the 'Dawgs try to capture a Michigan Intercollegiate Athletic Association championship.
*featured image by Mike Dickie*