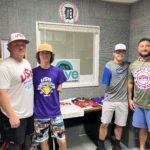 Adrian, MI – The USA Patriots Amputee Softball team will be showcasing their talents at Adrian College's Nicolay Field Saturday afternoon. 96.5fm The Cave will be there to broadcast the game at Noon, with the pregame show beginning at 11:15am.
A few members of the team were able to stop by the Cave studio this week to talk about their organization and the games on Saturday…
Opening ceremony starts at 11:15am, with the Color Guard, National Anthem, and the First Pitch. Game one between the USA Patriots and Honorably Mentioned will begin at 12 Noon. Game two, the Alumni Kid's Game, will take place starting at 1:30pm. Game three will feature the USA Patriots and "The Squares Team" at 3pm.
The games are free to watch, but donations are welcomed. If you cannot make a donation in person, contact Janet Dillard at (517) 403-9505 or email jldillard68@hotmail.com.
*Pictured in the feature image are (L-R) Josh Wege, Jace Etheridge, Scotty Fura, and Saul Bosquez*