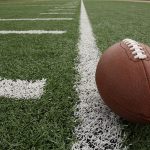 Adrian, MI – The Lenawee Christian Cougars and Hudson Tigers are the final two local teams left in the High School Football playoffs this year, and both games will be carried by the Lenawee Broadcasting Company.
Both LCS's State Championship game and Hudson's Semi-final game will be Saturday, November 20th.
First, at 11am, the Cougars are in a rematch of last year's Division 1 8-player Finals with Sutton's Bay. The game will be aired on 96.5fm The Cave and streamed online at 965thecave.com. Ian Wendt will be on the call from The Superior Dome in Marquette.
Then, at 1pm, the Hudson Tigers are battling Whiteford in the 11-player Division 8 Semi-Finals. The game will be at Docking Stadium at Adrian College, and aired on 103.9fm WLEN and on wlen.com with John Koehn on the call.