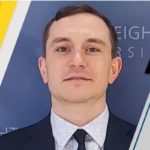 Adrian, MI – Siena Heights University athletic director Sue Syljebeck has announced Derrik Marry as the new men's wrestling coach. Marry is the second coach of the program since it was reinstated for the fall of 2020 after a 30-year hiatus.
"We are excited for Derrik to join our Siena Heights family," said SHU athletic director Sue Syljebeck. "He fits perfectly with our institution's mission. Derrik comes from a program with a championship pedigree and rich tradition, which is what we hope he will bring back to Siena Heights men's wrestling."
Marry brings a wealth of experience to the SHU program both as a coach and a competitor. Most recently, Marry served as a coach for the Hudson wrestling program where he was directly involved with the development of athletes from youth up to high school varsity competition. During his time at Hudson, Marry coached multiple youth national champions, state champions, and NCAA Tournament qualifiers. In 2019, the Hudson Wrestling Club won the highest team score at the premier youth national tournament in Tulsa, Oklahoma.
"I am excited to be in a position like this at an institution like Siena Heights University," said Derrik Marry. "I have spent the majority of my life in this area coaching and competing and feel honored that Siena chose to invest into a member of our community. The wrestling culture in this area is well established and has been producing athletes that achieve success at all levels of the sport for generations. The Siena Heights wrestling program will grow to reflect the toughness, work ethic, and grit that has been the catalyst behind the historic success in this area. I'm ready to work hard and look forward to finding young men that share my enthusiasm for chasing dreams, winning big competitions, and becoming the best version of themselves that they can possibly be."
No stranger to Lenawee county wrestling, Marry has worked with the Bulldog wrestling club at Adrian College as the main clinician responsible for instructing high school wrestlers from Lenawee County and the surrounding area.
Marry wrestled at NCAA Division I Eastern Michigan as a student-athlete. His career was cut short due to injury, but he gained coaching experience during the remainder of his undergrad as a volunteer coach. During that time, Marry worked with the freshman and redshirt athletes and traveled with them to NCAA Division I events as their coach.
A native of Hudson, Michigan, Marry earned a Bachelor of Science degree from Eastern Michigan University in 2017. He currently resides in Hudson.
*Media courtesy of Siena Heights University*