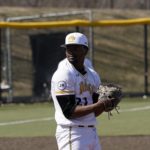 Adrian, MI – Adrian College starting pitcher Mo Hanley will undergo ulnar collateral ligament reconstruction, also known as Tommy John surgery. The senior left-hander has drawn the attention of several Major League Baseball scouts this season with a lively fastball.
WLEN Sports Director Steve Barkway talked to AC Baseball Coach Craig Rainey about the injury…
Hanley was set to become the highest baseball draft pick ever from the Michigan Intercollegiate Athletic Association. It's likely that the surgery will not greatly impact his draft stock.
*photo by Adrian College*