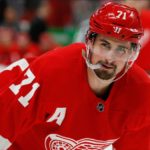 Detroit,  MI – The Detroit Red Wings have named Dylan Larkin as their captain. The native metro Detroiter has become the 37th captain in franchise history. Additionally, centers Luke Glendening and Frans Nielsen will serve as alternate captains for the 2020-21 season.
The 24 year old center has served as an alternate captain for the Red Wings since 2018-19 and assumes a captaincy that has been vacant for the last two seasons, following the end of Henrik Zetterberg's career in 2017-18 due to injury. Larkin is just the second American to wear the 'C' for Detroit after Reed Larson (Minneapolis, Minn.) and is the fifth player to serve as captain under Ilitch ownership. Larkin's career has been exclusively linked to the state of Michigan, playing his youth hockey in the Lakeland Hockey Association and with Belle Tire AAA Hockey, before spending two seasons with the Ann Arbor, Mich.-based U.S. National Team Development Program (2012-14), one season at the University of Michigan (2014-15) and debuting professionally with the American Hockey League's Grand Rapids Griffins during the team's postseason run in 2014-15 prior to making the Red Wings as a 19-year-old in 2015-16.
Entering his sixth season with the Red Wings in 2020-21, Larkin has appeared in 389 games with the team since 2015-16, totaling 266 points (107-159-266) and 246 penalty minutes. In 2019-20, Larkin led the Red Wings in points for the third-consecutive season, becoming one of just six players in franchise history to lead the team in scoring for three-straight years (along with Ted Lindsay, Gordie Howe, Steve Yzerman, Pavel Datsyuk and Henrik Zetterberg).
Originally drafted by the Red Wings in the first round (15th overall) of the 2014 NHL Entry Draft, Larkin made an immediate impact after making the team in 2015-16 and was named a 2016 NHL All-Star, where he broke the league's fastest-skater record during the Skills Competition.
*Article by Ian Wendt*
For more information, visit nhl.com/redwings*