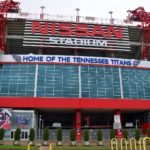 Adrian, MI – Whether it's a fumble near the goal line by your second round running back, a fumble when your first round tight end appears to have a third down conversion, the defense giving up third and long passes to wide open receivers, it has become clear that the Lions are a team that cannot consistently make big plays.
Detroit has stuck around in several games this season, but as the Lions fall to 5-9 after their 46 – 25 loss at Tennessee the rebuild should not end with the firing of Matt Patricia and Bob Quinn. It is time to move on from Matthew Stafford. Not because he is a bad quarterback…but because he cannot win meaningful games here. To say he is to blame for every heartbreaking loss is not fair, and it's not right. What is a fact is that this team has not been a consistent playoff contender with Stafford at the helm.
Making Detroit a postseason team will take time, and Stafford does not have time to wait for this team to rebuild around him…again. While Lions fans appreciate his toughness (which he does have) and his ability to make great throws at times, he does not make big plays on a regular basis.
There are so many variables as to why the Lions, right now, are a bad football team… and they were all on display against Tennessee on Sunday. Turnovers, poor tackling, poor pass rush and coverage in the secondary just to name a few.
I see a long, busy offseason for the Detroit Lions.
-by Ian Wendt