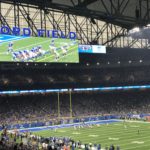 Adrian – On Tuesday afternoon, it was announced that the Lions will be enlisting the help of some pretty substantial former players in the search for the next GM and Head Coach of the franchise.  The move was met with much excitement, but some concern, from Lions fans and media on social media.
The two former star players are Barry Sanders and Chris Spielman.  Sanders will be part of the search team as an advisor, while Spielman makes a more permanent move as the Special Assistant to the President and Owner.  He is leaving his current job as an analyst for Fox Sports.  That current role is the root of what some Lions fans and media are concerned about with Spielman.  He conjures up memories of another former NFL linebacker/Fox football analyst – Matt Millen.  Millen served for many years in the front office for the Lions and many of those years were considered failures by fans and media covering the team.
Supporters of Spielman's hiring look at his playing days as an intense All-Pro linebacker who lead some formidable Lions defenses.  They feel he has stayed close to the game as a broadcaster, and that insight will help the leadership of the Lions franchise make the right selection for GM and head coach.
Sanders, who will serve temporarily in his advisory role, also lends credibility in the search to fans and media.  Arguably the greatest RB to ever play the game, Sanders is still popular with fans and media in Detroit despite his sudden retirement from the team many years ago.
The Lions also added Rod Graves, a veteran of NFL front offices, as well as former MSU AD Mark Hollis.  Both will lend an athletic administration perspective in the search.  Overall, Lions fans should be excited that two greats from the teams more successful past will be looking to find the next leadership pairing directly responsible for the on-field product in the coming years.  Gooooooo Lions!
– -By John Roberts