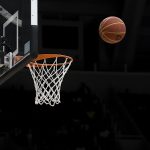 Adrian, MI – The new Detroit Pistons General Manager Troy Weaver was very aggressive in the NBA draft on Wednesday. The Pistons landed three first round selections… in a flurry of trades…shaking up their roster with bit-time young talent.
First pick at #7 they took 6'5″ swingman Killian Hayes… considered perhaps the most versatile point guard in the draft… and an amazing work ethic. He was born in the U.S., but played in France when he turned pro at the age of 16.
With the 16th pick, Detroit selected 6'9″ center Isaiah Stewart, who was a five-star prospect in the class of 2019 recruiting class, and a McDonald's All American.
The Pistons also traded Luke Kennard to the Clippers for the #19 pick. With that selection, Detroit took Saddiq Bey, a 6'8″ wing man. Bey solidified himself as one of the best small forwards in the country while guiding Villanova to a spot in the AP Top-10 and earning All-Big East 1st team honors.
Detroit aquired Trevor Ariza via trade on Wednesday night as well. He is a solid forward who can knock down 3-pointers who spent time with the Portland Trail Blazers and Sacramento Kings last season.
The Pistons have also positioned themselves with a lot of money to spend on free agency.
-by Ian Wendt