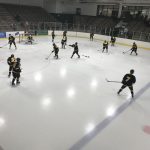 It was a classic Adrian-St. Norbert game on Friday night. Defense was the name of the game, with both teams killing penalties and a low shot total.
Adrian College sophomore goalie Cameron Gray made 20 out of 21 saves, while St. Norbert's freshman goalie Colby Entz stopped all 33 Bulldog shots.
The first period was fast-paced, with neither team really able to sustain consistent offense. After 20 minutes of play, AC held a 10-9 shots on goal lead.
Adrian's offense made adjustments during the first intermission which made for a dominate period in terms of shots on goal. The Bulldogs out-shot St. Norbert 12-5 in the second stanza.
The third period, again, saw AC out-shoot the Green Knights… this time 11-7.
The only score of the game came off the stick of Peter Bates (St. Norbert). He was able to score with 4:42 remaining in regulation.
Adrian pulled their goalie with 1:11 to go, but could not get the equalizer to force extra time.
The teams combined to go 0-for-7 on the power play (AC 0-4 , SNC 0-3). Adrian held a 33-21 shot advantage. The St. Nobert win gives them an all-time 13-8 series lead, including an 8-2 mark at home.
St. Norbert Green Knights improve to 8-7-2 overall (6-5-2 NCHA-North Division); with the Adrian Bulldogs now at 8-5-3 overall (6-3-3 NCHA-South Division).
These same two teams conclude their weekend conference series at 5 p.m. Eastern.